BLACK CAT
ROOT SHACK
& APOTHECARY
A Dallas Hoodoo Drug Store
& Candle Shop


Looking For?
Welcome
Welcome to Black Cat Root Shack, a Dallas Hoodoo Drug Store, Candle Shop and Apothecary.
We offer a wide selection of:
Lucky Mojo Curio Co. Hoodoo and Occult supplies.
Custom made items such as Mojo Bags, Herbal Baths, Honey Jar Spells and Poppets.
We offer a full scale service at our Hoodoo Candle Shop and Ministry, where we can set spiritual and magical lights for you for your particular needs; such as Blessing, Money, Luck, Love, Reconciliation, Court & Legal Needs, Uncrossing, Peaceful Home, and Success.
---
We are committed to offering you a warm welcome and attentive service. Simply call ahead and we will be ready for your arrival.
Your continued rootwork and conjure business will help us to reach our long term dreams -- of opening a full service Dallas Hoodoo Occult and Metaphysical store.
May G-d Protect and Guide You,
Lara and the Black Cat Apothecary Staff
---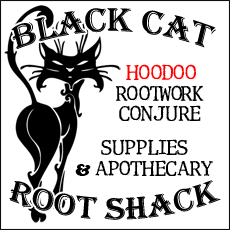 Black Cat Apothecary is the physical store location of Black Cat Root Shack. If you do not live in the Dallas Area, and need to purchase Hoodoo Supplies, we invite you to look at our product listings on eBay or read more about the Lucky Mojo Occult Supplies we may have in stock at Black Cat Root Shack.
We carry a fully line of Lucky Mojo products including Lucky Mojo Hoodoo Oils, Ritual Oils, Essential Oils, Planetary Oils, Zodiac Oils, Hoodoo Waters and Conjure Washes, Magical Herbs, Curios, Hoodoo Roots, Sachet Powders, Incense Powders, Bath Crystal, Herbal Baths, Figural Candles, Books and a whole lot more.
---